Designated Sites
Cultural and scientific water experts designated these sites on the basis of their geohydrological, biological, and cultural merit. These sites represent Arizona's most unique ecosystems and helped to establish the region's identity.
An interdisciplinary group of researchers established Arizona Heritage Waters to bring the public's and resource managers' attention to these sites and the threats they are confronting. The project was undertaken in the hopes that beauty and importance of these sites will inspire state visitors, residents, and policy makers to make decisions that ensure their continued existence.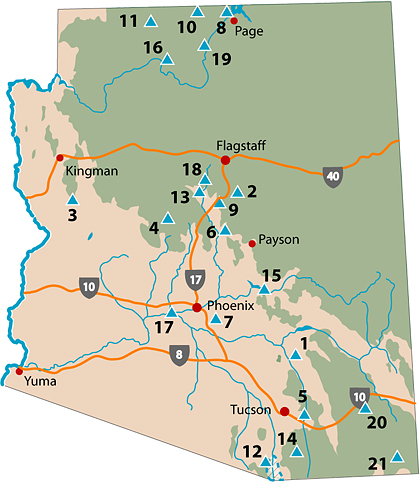 Sites:
The map shows the locations of the Arizona Heritage Waters sites. Click on any of the locations to start learning about the astounding places that have played a key role in the state's history, culture, and ecology.