Peck's Lake, Tavasci Marsh, and Shea Spring
Introduction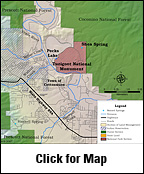 Peck's Lake and Tavasci Marsh lie adjacent to Tuzigoot National Monument in an ancient oxbow isolated from the Verde River nearly 10,000 years ago. The marsh is primarily fed by Shea Spring, located in the limestone beds on the northernmost edge of this ancient meander. The spring emerges from a sand boil—named for appearance rather than temperature. Sand boils occur where spring water discharges into the base of a pool under enough pressure to cause the sand grains to "boil." The spring pool is surrounded by dense stands of cattail, overhung by a towering mulberry tree. Peck's Lake—originally developed as part of a planned golf course—is fed by a diversion from the Verde River. Today this man-made impoundment provides habitat for more than one hundred different species of migrating birds—some listed as federally threatened or endangered.
These two wetland sites support an incredible variety of wildlife. Both are owned by Freeport-McMoRan Copper & Gold Inc; however a cooperative agreement allows the National Park Service at Tuzigoot National Monument to manage Tavasci Marsh as a wildlife sanctuary. They allow limited public use for birding, fishing and hiking. A picnic area is provided near the lake, and the Tavasci Marsh Lookout Trail, located on the western edge of the nearby national monument, affords spectacular views of the marsh and lake.
Ecological Importance
Shea is a perennial spring that supplies 68 degrees F water from deep underlayers of sedimentary limestone year-round. Tavasci Marsh is one of Arizona's only freshwater marshes—water resources that are especially influenced by changes in the surrounding environment. Small changes in sediment or water chemistry can effectively wipe out a marsh community. Preservation of this site is especially important, as only an estimated 5 percent of Arizona's watercourses remain in a natural state.
Marshes are valuable natural resources. At Tavasci, cattails and other wetland vegetation provide nesting and habitat for hundreds of bird species including the notable red-winged blackbird and the threatened Bell's vireo. Each winter hundreds of canvasback, common mergansers, redhead and ring-necked ducks, wigeons, gadwalls, and teals flock to Peck's Lake to escape colder climates. According to The Northern Arizona Audubon Society website more than 167 different species of migrating birds have been recorded here.
Great blue heron and other fish-eating birds hunt in the water that is rich with aquatic life. Frogs and turtles are abundant in the marsh. River otter and beaver also make their homes here. The natural activities of beavers are thought to have aided rehabilitation efforts.
Unfortunately, non-native species also thrive in the wetlands. Prolific communities of crayfish compete with native species; small-mouth bass consume them. As a result native fish have become increasingly rare in the marsh. Bermuda grass competes with native plants for light and nutrients. It forms dense mats that interfere with natural stream flow and sometimes completely envelope native vegetation, effectively suffocating riparian areas.

Human History
At Tuzigoot the abandoned ruins of a pueblo tower more than 120 feet above the Verde Valley. The structure, which contains over a hundred rooms, looks out across Tavasci Marsh and the nearby Verde River. These ruins are left to us by the ancient Sinagua, settlers who came to the area fleeing drought around A.D. 1100. For three hundred years the Sinagua subsisted on crops irrigated by the Verde River. By the 1400s Tuzigoot had grown from a single family to a village of about 200 individuals. Soon the land could no longer support their numbers and the Sinagua abandoned the area.
Spanish explorers visited the area in the late 1500s but the discovery of copper ore brought mass settlement and industry to the region more than 200 years later. The Upper Verde Mining Company built tailings ponds, pumping tons of copper smelting waste products from mines in Jerome and the smelter in Clarkdale. They also leased the land to ranchers, including the Tavasci family for whom the marsh is named. In 1935 Phelps Dodge Corporation purchased the land (Freeport-McMoRan acquired it when it purchased Phelps Dodge in 2006 for $25.9 billion in cash and stock.). When smelting operations ceased in Clarkdale, so did the pumping. Today Freeport-McMoRan participates in a cooperative effort to clean up and restore this wetland habitat.
Conservation
Until recently Tavasci Marsh was slated to become a golf course and housing development. The Tavasci Marsh Habitat Restoration Project represents a continuing effort to secure and improve the wetland for wildlife and recreational use. This project is funded by several state and federal entities, including the Arizona Game and Fish Department and the National Park Service, in cooperation with Freeport-McMoRan.
Tavasci Marsh, Shea Spring, and Peck's Lake are included in the Tuzigoot Important Bird Area (IBA), designated by The National Audubon Society. The IBA program pursues and encourages conservation programs at sites important to avian wildlife and has helped to expand protections and acreage of priority sites throughout the United States. The National Audubon Society lists the rehabilitation of wetland hydrology as an important goal for the Tuzigoot IBA.
Contributing Writers
Kim Whitley and Abe Springer.
Photo © Abe Springer
Links
Visitation
Tuzigoot National Monument
Arizona Recreational Values
Water Resources
Tuzigoot National Monument – Wetlands and Marshes
Conservation
Northern Arizona Audubon Society – Tavasci Marsh Important Bird Area
Bibliography
Arizona Department of Water Resources. 1988. Well registration report in the vicinity of Montezuma Castle, Montezuma Well, and Tuzigoot. Operations Division, Phoenix.


Arizona State Parks. 2003. Statewide Comprehensive Outdoor Recreation Plan. Partnership division, Arizona State Parks and Land and Water Conservation Fund.


Brown, D.E. 1985. Arizona wetlands and waterfowl. University of Arizona Press, Tucson.


National Park Service, Montezuma Castle and Tuzigoot National Monuments. 1975. Master Plan and Environmental Assessment. Montezuma Castle National Monument, Camp Verde, Arizona.


National Park Service, Tuzigoot National Monument. 1991. Natural and Cultural Resources Management Plan and Environmental Assessment. Montezuma Castle National Monument, Camp Verde, Arizona.


Owen-Joyce, S.J. and C.K. Bell. 1983. Appraisal of water resources in the upper Verde River area, Yavapai and Coconino Counties, Arizona. Bulletin 2, Arizona Department of Water Resources, Phoenix.


Peterson, R. A., R. L. Ferriter, and A. Hamid. 1978. Investigation and evaluation of abandoned tailings pond, Tuzigoot National Monument. Technical report, Division of Safety Technology, Denver Technical Support Center. Mine Safety and Health Administration, Department of Labor, Denver, Colorado.


Todd, R.L. 1972. Biological report on a marsh near Tuzigoot National Monument. Special Report, Project W-53-23, Work Plan 5, Job 1, Arizona Game and Fish Department, Phoenix.


Twenter, F.R. and D.G. Metzger. 1963. Geology and groundwater in Verde Valley--the Mogollon Rim region, Arizona. US Geological Survey Bulletin 1177.