Vaseys Paradise
Introduction

Thirty-two miles downstream from Lees Ferry, the Colorado River cuts into the Redwall Formation, exposing ancient groundwater passages. Vaseys Paradise is one groundwater channel system that still delivers North Rim water into
Grand Canyon
. Just beyond the quiet bend at South Canyon, a gushet of white water cascades down the limestone cliff on the right (west) side of the river, through a jumble of greenery, and into the mainstream. On his historic 1869 expedition through Grand Canyon,
Major John Wesley Powell
named it in honor of his friend and noted botanist, Dr. George Vasey. Curator of the U.S. National Herbarium and Botanist of the Department of Agriculture, Dr. Vasey never saw the springs that bear his name. The site is renowned for its scenic beauty, remarkable hydrology, and rich biodiversity.
Ecological Importance
Eight species of Mollusks live at Vaseys Paradise, including
Kanab ambersnail
. This tiny snail, measuring less than an inch, has received a great deal of attention since it was designated an
Endangered Species
by the
U.S. Fish and Wildlife Service
in 1992. The only other population of this landsnail is found at Three Lakes, a privately-owned wet meadow near Kanab, Utah. Its presence at Vaseys has restricted the use of high releases from Glen Canyon Dam to manage sand storage in the Colorado River. However, more definitive taxonomic studies may soon synonymize Kanab ambersnail with the far more common Niobrara ambersnail. Nonetheless, Vaseys Paradise is one of only three known sites in Arizona to support this genus.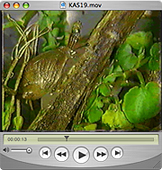 Although Kanab ambersnail is rare, it hosts a much rarer parasitic trematode flatworm, Leucochloridium cyanocittae. This flatworm typically uses songbirds as definitive hosts, which defecate the eggs onto wetland vegetation. The eggs are consumed by a wetlands succineid landsnail, the first intermediate host. The parasite develops into its miracidium life stage within the snail's digestive tract, and then produces sporocysts, each filled with encysted cercariae called metacercaria. Mature sporocysts, brightly colored pink and green and nearly half an inch long, are pushed into the snail's eyestalks. The parasite, now more than half the body volume of the snail, moves the snail out to the open, and pulses the sporocysts once per second out the eyestalks, drawing the attention of avian predators. A bird, seeing the pulsating pink and green snail, picks at it, causing the sporocyst to eject from the eyestalk and wriggle on the ground like a caterpillar. The bird eats the sporocyst and the parasite completes its live cycle in the bird's digestive tract. An unfortunate snail may serve as host for several generations of sporocysts.
Other Molluska species include: Fossaria obrussa (Lymnaeidae); Physella sp (Physidae); Catinella avara, Catinella vermeta, and Catinella sp.; Hawaiia miniscula (Zonitidae); and Deroceras laeve (Limacidae).
Many other invertebrates take advantage of the habitat at Vaseys Paradise, including roundworms, earthworms, spiders, caddisflies, stoneflies, and an aquatic moth. In contrast, Vaseys Paradise supports a low species richness of phytoplankton in comparison with other perennial Grand Canyon tributaries. This may be attributable to the extremely small (less than 2.5 acres) drainage basin area of the springs.
Hydrology and Geomorphology
Vaseys Paradise springs issue from the Mooney Falls member of the Mississippian Redwall Limestone at an elevation of 3,034 feet. Emerging from three mouths in a steep cliff, its flow divides into several large and many small cascading rivulets on its short course to the Colorado River. Vaseys Paradise flow is derived from one of several parallel Permian and Pennsylvanian groundwater basins in the northeast corner of the Kaibab Uplift, draining between 47 and 310 square miles of the North Rim of Grand Canyon. In 1974 Peter Huntoon traced Vaseys Paradise flow nearly two miles into the Redwall Limestone and concluded that it originated from precipitation and percolation as much as 10.5 miles from the mouth. According to John Rihs, Hydrologist for Grand Canyon National Park, the flow averaged 2.2 cubic feet per second from 1992 until 2006, with a 5-10-fold higher flow during the spring peak in May than the late fall and winter flow.
Vaseys Paradise is a cool-water, dilute, dolomitic springs. National Park Service monitoring since 1992 has revealed it to be nearly unithermal, averaging 15.7 degrees C and ranging from a winter low of 12 degrees C to an August high of 16.7 degrees C. The spring has been examined through numerous studies, and like other Grand Canyon cool-water springs (e.g., Bright Angel, Deer, Shinumo, and Tapeats Creeks), has been shown to have relatively high water quality. This is indicated by: low total dissolved solids (194.4 mg/L), low specific conductance (336.3 μS/sec), slightly alkaline pH (8.25), low alkalinity (187.6 mg/L), and nitrate-nitrogen concentration now less than 1 mg/L. Its calcium concentration is approximately twice that of its magnesium concentrations, and with relatively low sulfate, chloride, silica, and sodium concentrations, Vaseys Paradise water is fairly dilute, reflecting limited impacts of groundwater geochemical alteration. Although its water quality is good, drinking from the springs is not recommended as it contains detectable levels of fecal coliform and Streptococcus, particularly after precipitation events. Also it has the highest N:P ratio of 5 cool-water springs in Grand Canyon, conditions that may favor bacterial growth.
Vegetation
The vegetation of Vaseys Paradise was first described by
Elzada Clover and Lois Jotter
, the first women to successfully float through Grand Canyon on a commercial trip in 1938. Since then the springs have been widely visited and photographed as a scenic attraction. Historic photographs reveal little pre-dam vegetation near the river; however, post-dam spring and riparian vegetation colonized downslope to the river's edge, increasing the vegetated area of the springs by approximately 40 percent.
Vaseys Paradise vegetation is distributed in relation to the moisture gradient radiating outward from the pourouts and rivulets. The upper, vertical walls of the spring are dominated by crimson monkeyflower and rockmat, with some longleaf brickelbush and non-native bentgrass. The rivulet and seep edges on the talus cone are dominated by monkeyflower, maidenhair fern, horsetail, heleborine orchid, cardinal flower, watersedge, and what may be the only population of smartweed along the river in Grand Canyon, as well as non-native Canada wild rye and watercress. Slightly upslope from the water's edge on the talus cone lie dense stands of poison ivy—a rare plant along the river, and small patches of Louisiana sage, longleaf brickelbus, goldenrod and decadent redbud shrubs. Coyote and Goodding's willow occupy the middle riparian zone just out of contact with the rivulets.
The vegetation along the Colorado River shoreline at Vaseys Paradise is a mixed wetland herb assemblage dominated by rushes, and non-native watercress, narrowleaf plantain, rescue grass, tamarisk and recently invading Bidens frondosa. Wet and mesic bedrock exposures in the middle riparian zone are occupied by small patches of native Dichanthelium lanuginosum, moss and herbs. The landscape surrounding the spring grades out to an upper riparian zone dominated by Apache plume and a xeric assemblage of Great Basin and Mohave desertscrub.
Human History
In addition to the above scientific and biodiversity attributes, Vaseys Paradise is an important cultural site to regional Native American tribes, as indicated by the many nearby Anasazi ruins and petroglyphs. The area around Vaseys Paradise contains a number of paleontologically important sites, including
Stanton's Cave
, with Pleistocene vertebrate remains and enigmatic cave driftwood lying more than 40 meters above the modern-day Colorado River. Nearby South Canyon is renowned as an upper Grand Canyon hiking and fishing destination.
Conservation
Vaseys Paradise lies within the boundaries of Grand Canyon National Park. Visitation to South Canyon, a popular backpacking and fishing destination that provides access to Vaseys, requires a permit. The springs' inhospitable vegetation—fairly robust poison ivy—provides some protection of the site; nevertheless up to ten square meters of habitat is trampled every year by visitors, jeopardizing Kanab ambersnail. The U.S. Fish and Wildlife Service, in cooperation with Grand Canyon National Park, established revegetation patches and created a program to educate visitors about the fragile site.
Contributing Writers
Larry Stevens and John Rihs, Grand Canyon National Park.
Photo © Leon Werdinger
Links
Visitation
http://www.nps.gov/grca/planyourvisit/backcountry.htm
http://www.gloaming.com/rockgarden/GCPlaces/VaseysParadise.html
Water Resources
Biological Information
http://www.springerlink.com/content/t761706325959372/
Historical Information
http://www.powellmuseum.org/MajorPowell.html
http://www6.nau.edu/library/scadb/recdisplay.cfm?control_num=11000
Bibliography
Baquaert, J.C. and W.B. Miller. 1973. The mollusks of the arid Southwest; with an Arizona check list. University of Arizona Press, Tucson.


Baer, J.G. 1971. Animal parasites (translated from the French by K. Lyons). University Library, McGraw-Hill Book Co., New York.


Clover, E.U. and L. Jotter. 1944. Floristic studies in the canyon of the Colorado and tributries. American Midland Naturalist 32:591-642.


Cole, G.A. and D.M. Kubly. 1976. Limnologic studies on the Colorado River from Lees Ferry to Diamond Creek. Colorado River Research Series Report No. 8, Grand Canyon.


Cooley, M.E., J.W. Harshbarger, J.P. Akers, and W.F. Hardt. 1969. Regional hydrogeology of the Navajo and Hopi Indian Reservations, Arizona, New Mexico, and Utah. U.S. Geological Survey Professional Paper 521A.


Crayton, W.M. and M.R. Sommerfeld. 1979. Composition and abundance of phytoplankton in tributaries of the lower Colorado river, Grand Canyon region. Hydrobiologia 66:81-93.


England, J.L. 1992. Endangered and threatened wildlife and plants; final rule to list the Kanab ambersnail as endangered. Federal Register 57(75):13657-13661.


Euler, R.C., editor. 1978. The archaeology, geology, and paleobiology of Stanton's Cave: Grand Canyon National Park, Arizona. Grand Canyon Association, Grand Canyon.


Huntoon, P.W. 1974. The karstic ground water basins of the Kaibab Plateau, Arizona. Water Resources Research 10:579-590.


Huntoon, P.W. 1981. Fault-controlled ground-water circulation under the Colorado River, Marble Canyon, Arizona. Ground Water 1:20-27.


Johnson, P.W. and R.B. Sanderson. 1968. Spring flow into the Colorado River - Lees Ferry to Lake Mead, Arizona. Arizona Land and Water Department Resources Report 34.


McCulley, B. 1985. Marble Canyon spring sampling investigation. Department of Energy Office of Nuclear Waste Isolation BMI/ONWI-514.


Meretsky, V.J., D.L. Wegner, and L.E. Stevens. 200. Balancing endangered species and ecosystems: a case study of adaptive management in Grand Canyon. Environmental Management 25:579-586.


Pilsbry, H.A. 1948. Land Mollusca of North America. The Academy of Natural Sciences of Philadelphia Monographs II(2):xivi,521-1113.


Spamer, E.E. and A.E. Bogan. 1993a. Mollusca of the Grand Canyon and vicinity, Arizona: new and revised data on diversity and distributions, with notes on Pleistocene-Holocene mollusks of the Grand Canyon. Proceedings of the Academy of Natural Sciences of Philadelphia 144:21-68.


Spamer, E.E. and A.E. Bogan. 1993b. New records of Mollusca for Grand Canyon National Park and Arizona. The Southwestern Naturalist 38:293-298.


Stevens, L.E., F. Protiva, D.M. Kubly, V.J. Meretsky and J. Petterson. The ecology of the endangered Kanab ambersnail (Oxyloma haydeni kanabensis Pilsbry) in Grand Canyon, Arizona. Bureau of Reclamation Glen Canyon Environmental Studies Report, Flagstaff.


Turner, R.M. and M.M. Karpiscak. 1980. Recent vegetation changes along the Colorado River between Glen Canyon Dam and Lake Mead, Arizona. U.S. Geological Survey Professional Paper 1132.